Search This Site
Categories
Profile
innovatingjp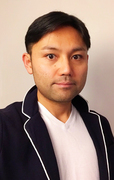 Shutaro Hanzawa
Founder & CEO,
innovating.jp Inc.
Miyagi University(Business planning, Integrated Systems) graduate.
involved in ventures, EC-Navi in 1999, KLab in 2001,
planning and developing advanced mobile services.
in 2004 started up SHOPPING.JP, became president(exited March 2008).
For future of mobile industry, started up innovating.jp Inc, became president, focused on mobile social internet.
Conference Presentation:
Mobile Commerce New Trends in Mobile Content Fourm 2009
Mobile Business Summit 2009 (Social Application, Social Commerce)
Mobile Business Summit 2008 (Mobile TV, Native Contents)
Mobile Business Summit 2007 (Mobile Commerce)
Interview:
EC Terrace, February 2010 (Product is King)
Net Direct Sales, October 2009 (Brand sites become media)
IT Tokyo Newspaper, March 4, 2008 (unique mobile service)
Belief:
We can not change the past, but we can change the future.
So we challenge to create new value with believing in technology to improve the world.
Contact:
Please send email to
this address
Connect:
Linkedin:
Shutaro Hanzawa
Twitter:
ShutaroHanzawa
半澤修太郎
innovating.jp株式会社
 代表取締役
宮城大学事業構想学部(総合系)卒業。
1999年(株)ECナビ、2001年KLab(株)の立ち上げに参画
先進的なケータイサービスの仕様策定・企画開発に携わる。
2004年モバイルコマース事業を行うSHOPPING.JP(株)を設立
代表取締役に就任(2008年3月退任)。
更なるモバイル業界発展のために、新しいケータイサービスの
企画開発を行うinnovating.jp(株)を設立、代表取締役に就任。
オンラインゲーム事業と投資育成事業に注力。
カンファレンス講演
MCF2009 モバイルコマース最新動向
モバイル・ビジネス・サミット2009 ソーシャルアプリ/ソーシャルコマース
モバイル・ビジネス・サミット2008 ワンセグ連携/ネイティブ連動
モバイル・ビジネス・サミット2007 モバイルコマース
インタビュー記事
ECテラス 一番大事なのは、商品 2010年2月
月刊ネット販売 ブランド直営サイトはメディア化する 2009年10月号
東京IT新聞 「ケータイならでは」な接客 2008/3/4号
コンタクトは
こちら
まで
コネクト:
Linkedin:
Shutaro Hanzawa
Twitter:
ShutaroHanzawa
Profile
Feed